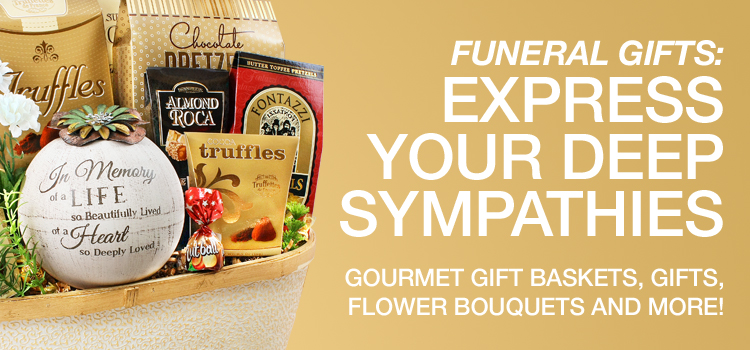 Funeral Gift Baskets to Express Your Deep Sympathies
Funeral Gift Baskets
In a sorrowful time of a loss it is a respectful gesture to show the mourning family how much you feel for their loss with a special funeral gift. A thoughtful bereavement gift can help cherish a life well lived and help convey your condolences. If it is not possible for you to go to the funeral, sending an appropriate funeral gift is of paramount importance.
When caring words are just hard to come by.
Our funeral gifts helps to honor the deceased loved one and also offer comfort to the family and friends. By sending a funeral fruit basket or a gourmet sympathy basket with your condolences, you are also handing a helping hand to the family by providing them with tasty treats to offer to their visitors. In a sad time like this, your gesture will be greatly appreciated. Along with our carefully selected gourmet treats you may find a special meaningful gift like a sympathy angel or photo frame with a thoughtful message which can be appreciated every day.
We assemble funeral gift baskets with a wide range of tempting and delicious sweet and salty treats and gourmet foods like cheeses, cheese-pleasers, salami, crackers, nuts and fruits to ensure everyone will find a favorite.
Flower Bouquets
From a selection of flower bouquets, to gourmet food baskets to colorful and healthy fruit baskets, no matter what you select you can be sure that it will bring a pleasing thought to the recipient's mind. Thank you for remembering and thinking of us in these hard times.
When caring words are just hard to come by you may express your sentiments with a classic bouquet of flowers. Flowers are a traditional gifts as a funeral gift for centuries and a gentle way to express your sympathy wishes from a distance. With their colorful appearance and nice designs they will brighten the room and brings a bit of an uplift to the sinking sorrowful soul. Try our Enchanted Meadows Bouquet
Find and send the best Sympathy Gift Baskets to Canada.
Related Links: